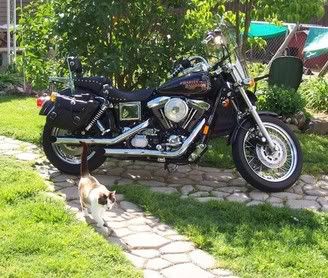 I've always done most of the work on my vehicles. I've rebuilt several VW Beetles, done lots of tuneups, shocks, brakes, etc. I'm a pretty good mechanic and confident enough in myself to take on most mechanical tasks. So why is it I've always been nervous when applying a wrench to my motorcycles? I've always done all of my bikes' oil & filter changes over the years. But anything much beyond that on a motorcycle and I'm hesitant to dive in.

That all changed last year.

My latest ride, a '98 FXDL (Dyna Low Rider) was taken to the dealer I bought it from every 3,000 miles for service. Then when I moved back to this area, I took it to another Harley dealer for service. It was sort of reassuring having the bike serviced by a Harley professional - it damned sure cost me enough. But that changed when the throttle cable broke on me last year. Luckily I was about 30 miles from the house, and it broke at the bar end and not at the carburetor. It wasn't long before a bro' stopped and whipped out a pair of long needle nose pliers from his trunk and I was able to extract the cable and feed it out the right side of the bike. I threaded it through one of my gloves (summertime, so fingerless) to keep from scratching the fuel tank, wrapped the loose end around my right hand, and away I went. I actually managed to make it home without dropping me and the bike. The one-handed take offs from stoplights were interesting, but I made it.

To be continued....