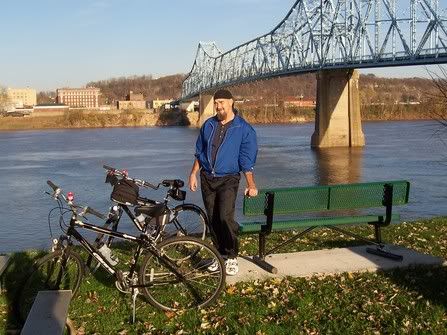 The wife and I quit smoking last summer, which was good, but we started putting on weight, a lot of weight. Twenty-some pounds for me and about fifteen for her. Not good! The solution was to increase our daily calorie burn. Jogging was considered, but since neither of us really like running it didn't take long to abandon that thought. But, about 2 or 3 times a week we had noticed some members of a local bike club cycling through our little 'burg.

"Hey, bicycling! That'd burn some calories." So just before Labor Day it was off to the a "real" bicycle shop and $500 later we were proud owners each of a Giant Cypress cross hybrid bicycle.

We were a little rusty at first, but it didn't take long until we built up our stamina and started doing a nice 8 mile round trip along the river to the mid-point site pictured above. Nicer still, was that within a couple months of almost daily riding, we lost some of the excess poundage (me - 10 lbs, her - 6 lbs). Also, even though we lift weights two, sometimes three times a week, I was pleasantly surprised to see my calves popping out more than ever. Amazing! Bicycling builds leg muscle. Who'd have thought it?

Winter showed up here on Thanksgiving Day and showed no sign of leaving. So we put the bikes away UNTIL yesterday and after a quick pre-flight rode off and did our 8 miles along the river. It was a beautiful Spring day, 70 degrees and very little wind. The quadriceps protested a bit, but they'll come around pretty quick. We plan on biking every day that we can until winter shows up again in about 7-8 months from now.

It's a great exercise activity that I wish we'd have discovered sooner - I highly recommend it. But, a suggestion, get a decent bicycle at your local bicycle shop. Don't buy one from your local non-bicycle shop - sure, they have great prices, but those prices get you a heavy, clunky, wear-you-out bicycle. There IS a difference.

And hey people, let's be safe out there.