Don Surber makes an
excellent point
on his blog regarding the harm the environmental loons are doing to our economy and our country. So, I thought I'd brush an old post of mine off that sorta, kinda echoes his thoughts. From May 2005:
The MV
J.N. Philips
pushing a 15 barge tow of Appalachian coal south on the Ohio. Its destination is probably one of the electric power plants downriver. The tow is 1/4 mile long with each barge holding about 1500 tons of coal, or 22,500 tons total.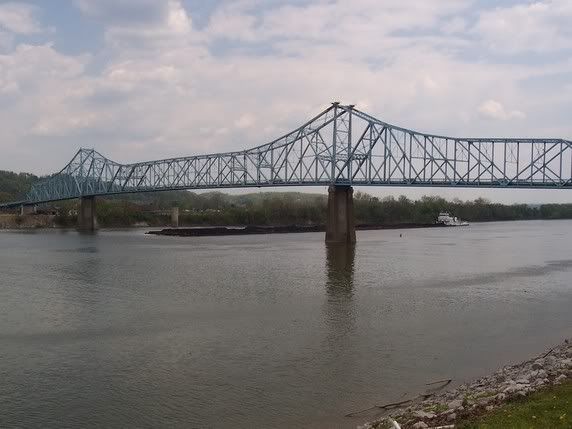 Why should you care? Well at least 210 lbs of that floating mass of carbon will be used to provide the average cubicle farm worker the means to earn a living for the next year.
How so? Easy, just do the math. The
American Coal Foundation
tells us it takes .014 lbs of coal to light a standard flourescent lightbulb for 1 hour. Let's say your cubicle has 6 of these overhead. .014 lbs x 6 bulbs x 10 hrs a day x 5 days a week x 50 weeks = 210 lbs. So there you are, it takes 210 lbs of coal per year to be mined, transported and burned so that you won't be working in the dark.
We'll save the lesson on how much coal is required to manufacture the steel in your SUV, washing machine, and refrigerator for next time.
Support coal - it keeps you clean, fed, behind the wheel, and on the receiving end of a paycheck.